By Carol McCracken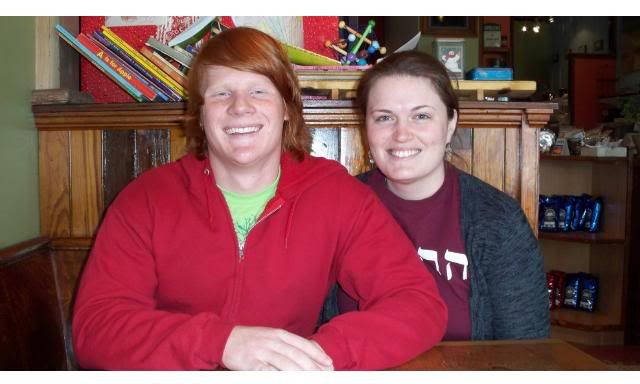 Last year's marriage of this attractive couple did nothing whatsoever to dampen their adventurous nature. To the contrary, this union may well have given them the impetus they needed to pursue a long time dream of Dan's. To kayak from the eastern most part of the country – Lubec, Maine to Key West, Florida – the southern most part of the country.
In their mid 20s, Bethany and Dan grew up in North Carolina. Last year Dan's brother drove them up to Lubec from where they embarked on the first leg of their kayaking trip. It took them 30 days to get to Portland from Lubec. They laid over on Munjoy Hill for the winter. Both got jobs at the Maine Mall working as cashiers. Not too long ago they left their jobs to prepare for the rest of their trip to Key West. On Friday, May 1, the two will board their separate 17 ft. kayaks and leave at 7:30 a.m. from East End Beach on the Hill for the last leg of their dream trip. They expect to arrive in Key West by October.
"It's like backpacking on the water," said Bethany. The first part of the trip will be the hardest paddling. They plan on pitching their tent at night on Maine islands until they run out of islands. Ss they paddle south, the paddling gets easier. But they will have to come up with some creative ideas on where to camp at night. Camping spots aren't as easy to locate down the coast. The couple is impressively equipped with navigational and communication equipment. "I know that my mother is concerned about this trip and so I want to be able to contact her and tell her we are safe," said Bethany.
Bethany and Don carry with them in their two kayaks equipment related to shelter; a tent, sleeping bags and bags of food. They will also take comfort stuff like cookies, a Bible, two journals and several books to read aloud to each other. That is when time permits. They hope to make about 15 – 20 miles a day at the beginning and then increase their mileage as they get into easier paddling waters. Both look in excellent physical condition, but Dan says: "We were in better shape when we arrived in Portland last fall. The beer, pizza and lobster here are really good!"
It's also been a cultural exchange program for them. "Life is much harder up here than in Raleigh. There is more leisure time at home. We don't have the same rough winters. Just scratching ice off the windshield is reason to complain!" Bethany says laughing. By the way, what she missed most of all on the first leg of their trip is running water she repeats several times for emphasis.
Dan was a business major in college and Bethany a wilderness leadership and education college major. The two hope to own their own business someday – perhaps on the Outer Banks of North Carolina. "This trip defines part of our lives and who we are. It'll be part of us for the rest of our lives. A good foundation for our marriage," Dan says. Bethany nods in agreement.
Bon Voyage, Always!
Please visit:www. dbkayak.com to learn more of this delightful couple and their ambitious plans.